G/DC-005 – Passing Pleasure
A family holiday down to Cornwall afforded the opportunity to bag a few new summits.  We stayed the night in Cullompton which meant we could avoid the Saturday morning traffic on the M5 and get an early start onto our first summit at Christ Cross.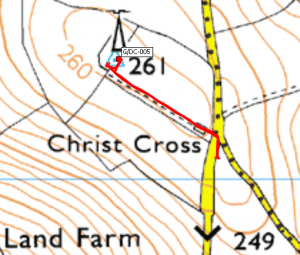 There is space for one car on the side of the road at SS 965 050 just South of the junction.  It's a short walk up the track to the summit.  There is no right of way over the track so you may need to seek permission for access.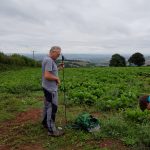 There is plenty of room beside the radio mast to set up the antenna and if it's a clear day there is a great view to enjoy whilst setting up.
We soon had four contacts in the log to qualify the summit, the fourth contact was remarkably into France with Alain down in Brittany.  Having made the contact Belinda took the opportunity to have a QSO with Alain as part of her Foundation training practical.  After this high point I called a few more times but was unable to raise any further contacts to we packed up and headed off to the next summit.
Journey Details
Date – 18th August 2018
Postcode – EX5 4HF or EX5 4LY
Parking – SS 965 050
Radio – Kenwood TH-D74 + 50W PA on 2m
Antenna – 2 ele yagi
Band – 144 FM
Contacts – 4
SOTA points – 1
Group – Myself, Belinda & Jacob
G/DC-005 Log

Walking Route Summary