G/DC-008 – China Clay
Hensbarrow Downs is a bit of an enigma.  The current summit has only recently been recognised (1st Sept 2017), there was previously another summit recognised which I think was at the trig point 50m below the current summit.  The new summit is located on the top of the spoil heap created from the china clay quarries below for which St Austel is famous.  There is some discussion regarding the change on the SOTA reflector, see this link.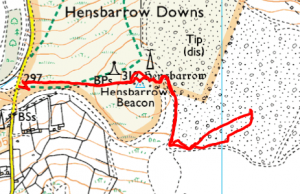 The easiest route to the summit is via the footpath leaving the road at grid reference SW 992 575.  There is ample parking there with room for five or six cars.
Follow the fairly obvious path as far as the trig point but then you will need to strike out through the undergrowth towards an obvious break in the earthworks to the east.  Here you will be able to follow the wide track which leads up to the summit plateau.  Although there is an area of access land marked on the map, in practice there is no obvious distinction on the ground separating the two areas.  Once on the summit plateau it is fairly featureless so it will pay to make a note of which direction you came from for the return trip.  There is a hut on the side of the road just south of the parking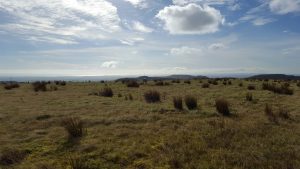 where there is a security man controlling the movement of large earth working machinery, you should check here for permission to access the summit if you plan to work from outside the access land.  If permission is not given then you will need to remain withing the marked access land which does extend into the activation zone so all is not lost.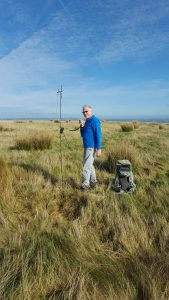 On reaching the summit we set up the radio and quickly achieved the required contacts for a successful activation.  It is worth noting that the local 2m and 70cm repeaters are also located on Hensbarrow so if you plan to use these bands you will need a reasonable quality radio, if you are using one of the cheap Chinese sets you are likely to suffer from front end overloading.
The return back to the car is straightforward so long as you remembered to note the direction off from the summit.
Journey Details
Date – 25th October 2017
Postcode – PL26 8XT
Parking – SW 992 575
Radio – Kenwood TH-D74
Antenna – 2 ele dipole
Band – 144 FM
Contacts – 6
SOTA points – 1
Group – Myself and Boyd
G/DC-008 Log

Walking Route Summary