Day two of our Lake District 50 point tour.  With 32 points in the bag on Saturday today we aimed to bag Blencathra and Skiddaw to complete the tour.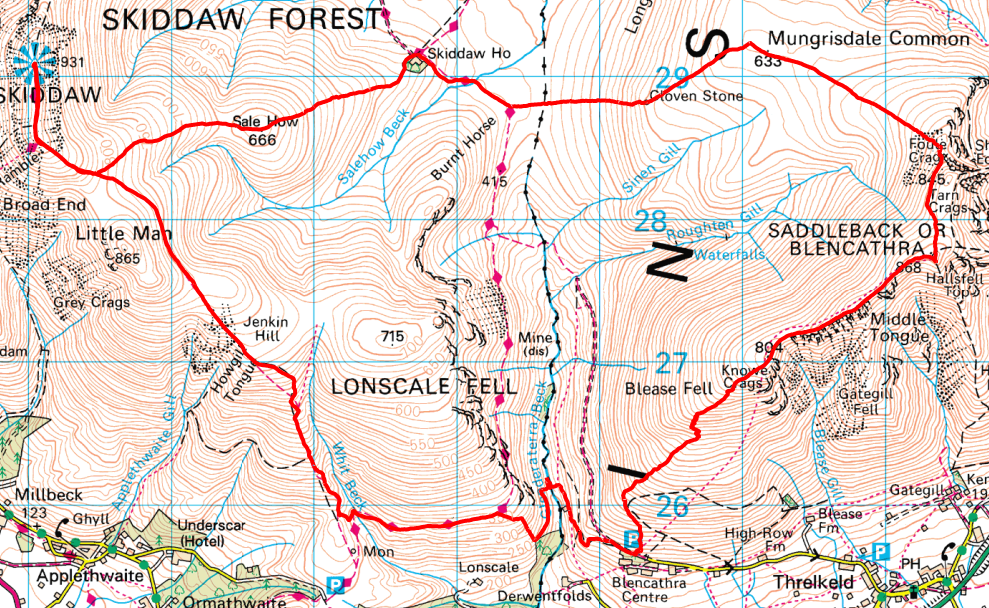 Although these two mountains are right next to each other there is no obvious route between the two. Possibly because both are on the large size they are not often walked as a pair.  They both have their own good parking but neither is easily reachable from the other providing many hours of debate and pouring over the maps before the trip.
In the end we decided to do Skiddaw first as it was worth more points and so rather than leaving us with the problem of getting back to Skiddaw at the end of a long day we parked in the Blencathra car park and tackled the route over to Skiddaw first thing.  This gave us the option to walk out down the path from Skiddaw house if we felt we couldn't manage Blencathra after all.  We were certainly glad we did it this way by the time we got back to the car.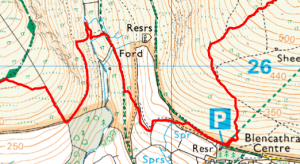 The Route across to the Skiddaw path is not at all clear and will take some very careful navigating.  It also involves a fairly major river crossing so shouldn't be attempted unless you are confident the river is not in flood.  I have included a zoomed in map here showing how we did it.  With hindsight, where we turned South after the river crossing I think I would next time try heading straight up the hill to join the path above.
G/LD-004, Skiddaw – 931m, 10 Points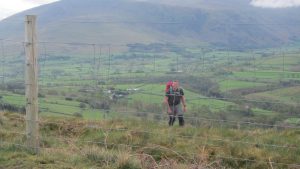 Once across the river and onto the path around Lonscale fell the rest is easy.  It's a good path over to White Beck and then it's a motorway up to the summit.  For a bit of extra spice take in Little Man on the way up for another Wainwright, although we didn't.
Skiddaw summit is pleasant enough with plenty of room to set up.  We found a spot next to the shelter and soon set up our stations.  It was my turn to operate this time but I found it quite quiet despite putting out a spot on APRS2SOTA.  I eventually had six contacts in the log including more from the Blackpool rally and a summit to summit (S2S) contact with Rob G3YTS over on Helvelyn, it was enough so we decided to have lunch and then pack up and make our way over to Blencathra.  It was as this point that I realised my lunch was still in the bot of the car so instead I sat and watched the others eat their lunch.  Then just as we were leaving the summit I heard a call from David M0YDH activating a WOTA summit so I quickly worked him barefoot to give him a WOTA S2S contact and making it seven in my log.
G/LD-004 Log.

G/LD-008, Blencathra – Hallsfell Top – 868m, 8 Points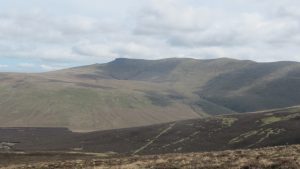 Leaving Skiddaw summit by the same route we arrived we soon reached the junction with the path down to Skiddaw house.  This is youth hostel out in the middle of nowhere.  We were still debating the best route over to Blencathra as there is no path marked on the map.  After much discussion we decided that it was quite likely that there would be both a path from Skiddaw down to the hostel and also a path from there up to Blencathra so we went for it.  On reaching the youth hostel I realised that there must be someone looking after all good SOTA activators as on the wall outside the deserted looking hostel was a sign saying "open at 5pm" and next to that, a small lunch box with a sign saying "Flapjacks, £1.50 each".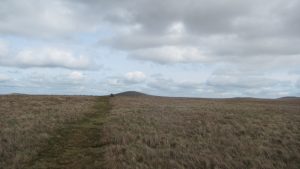 There were four inside so we scraped around and managed to find £3.00 for two of them.  They were the most delicious flapjacks I have ever eaten, thick with butter and sugar, probably make you sick on a normal day but after no lunch they couldn't have been better or more welcome.  They powered me straight up the side of Blencathra all the way to the top.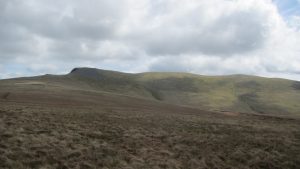 From the hostel follow the track SouthWest for 1/2 a Km until you come to a sharp bend and a fence line.   Turn East here, there is a path of sorts heading in roughly the right direction.  At the boundary fence you could take a bearing on the summit and head off cross country but we opted to stick with the path which although a bit further was much easier going.  Follow the path up past the Cloven Stone, a fairly obvious landmark, and on up past the cairn to a crossroads where we turned right, heading back towards the path over Sharp Edge.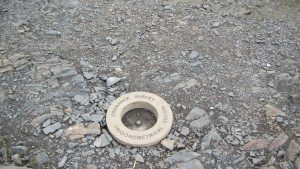 If there is any visibility at all this is an extremely obvious landmark well deserving of it's name.  Turning South below Sharp Edge, there is a path from here taking you across the small scree slope and on up-to the ridge leading onto Blencathra summit itself.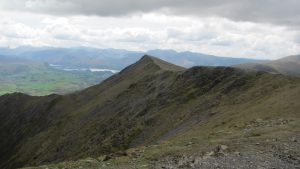 The summit is fairly compact with steep drops but there was room for the three of us to set up with some spacing.  We soon had five contacts in the log and all to soon it was time to head back down to the car and the long drive back home to Wiltshire.  Mission accomplished.
G/LD-008 Log

Journey Details
Date – 28th April 2019
Postcode – CA12 4SG
Parking – NY 302 256
Radio – Kenwood TH-D74
Antenna – Long Ranger
Band – 144 FM
Contacts – 7 + 5
SOTA points – 10 + 8 = 18
Group – Myself M1CJE, Peter M6XPE & Richard M1HAX
Walking Route Summary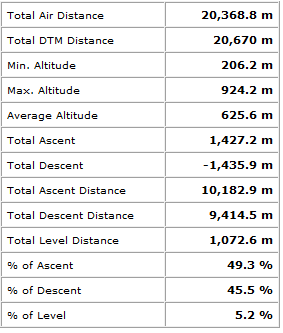 Profile