G/WB-002, Brown Clee Hill – 540m, 2 points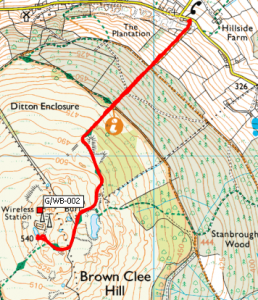 This was my second visit to Brown Clee Hill, the weather was a bit warmer this time.  Parking again on the edge of the access road below the gate, it's a short but steep walk up to the summit.  This time I set the station up a bit further to the South East, away from the radio towers and avoiding the summit trig point.  There is a small secondary ridge there that makes a good spot with a good takeoff.  Conditions were good and I soon had nine entries in the log including a contact with Richard on his way up Cader Idris which I was quite pleased to get,unfortunately he wasn't yet at the summit so no chaser points.
G/WB-002 Log

Journey Details
Date – 7th December 2019
Postcode – WV16 6TP
Parking – SO 602 877
Radio – Kenwood TH-D74 + 50W PA on 2m
Antenna – Long Ranger
Band – 144 FM
Contacts – 9
SOTA points – 2+3
Group – Myself
Walking Route Summary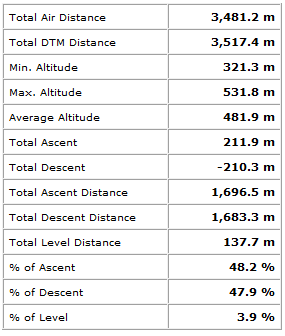 G/WB-004 Titterstone Clee Hill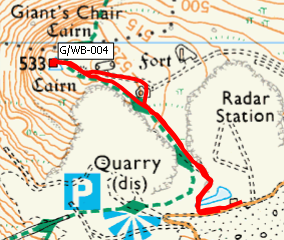 Last time I was up on Titterstone Clee I ascended from the West.  Although this was a good walking route the parking there was very difficult so this time I parked in the car park on the Southern approach.  The car park is a bit out in the wilds so the postcode may not get you to the right place, I have included the lat/long coordinates below which should get you there if the postcode doesn't work.  From the car park just follow the short path up to the summit.   This is an easy route and there is plenty of parking.  There is a nice shelter at the top but this time I set up beside the trig point as it's just a little bit higher.  I soon had fourteen contacts in the log including Richard again,this time at the summit of Cader Idris for a nice summit to summit contact.
G/WB-004 Log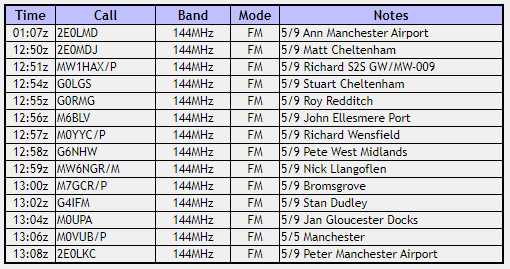 Journey Details
Date – 7th December 2019
Postcode – SY8 3NY
Parking – SO 595 775 – (52deg 23′ 41″ 2deg 35′ 52″)
Radio – Kenwood TH-D74 + 50W PA on 2m
Antenna – Long Ranger
Band – 144 FM
Contacts – 14
SOTA points – 2+3
Group – Myself
Walking Route Summary