G/SC-010, Dundry Down – 233m, 1 point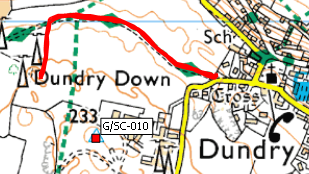 Dundry Down from the East is a very easy summit to reach but perhaps not quite so easy to activate on VHF.  There are three large radio masts on the summit that put out a strong signal that de-sense anything operating on 2M.
The summit trig point is not publicly accessible but the top is fairly flat and large areas of the activation zone are reachable.  As others have noted, there is good parking at ST 556 668 and there is a good track from there up to the radio towers.  You are already in the AZ at the car park so choose a spot to operate somewhere along the path that best suits you.  I set up on the corner post where the path turns South but this was a mistake as I was too close to the masts.  Next time I will choose somewhere a bit nearer the car park and further from the masts.  I struggled with the weaker contacts due to the interference but soon enough I had seven in the log.
G/SC-010 Log

Journey Details
Date – 1st December 2019
Postcode – BS41 8LQ
Parking – ST 556 668
Radio – Kenwood TH-D74 + 25W PA
Antenna – MFJ Long Ranger
Band – 144 FM
Contacts – 7
SOTA points – 1
Group – Myself
Walking Route Summary