EA5/AT-038 – Helada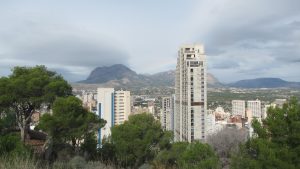 A family holiday in Benidorm afforded the chance to have a go at a Spanish SOTA summit.  We had a week booked on a package trip so luggage allowances meant there was no chance of taking much kit.  I managed to squeeze in my usual Kenwood TH-D74 radio as well as a reduced version of my 2 element beam that I normally use for UK activations.  It would have to do.  There are quite a few summits around Benidorm and a fairly good bus service so there are a number options available if you have time to explore.  I chose Helada because it is within walking distance of the hotel we were in.
Maps
Maps are a problem.  I printed a few location maps from Google before I left so I could find the start of the trails, thinking I would buy a detailed walking map locally once we arrived.  That was a big mistake.  The family were happy to have a day out walking around the shops of Benidorm whilst I searched for maps. There are no outdoors/walking shops in Benidorm and only one book shop which does not sell maps.  The place is totally focused on tourists sitting on the beach and the shops reflect this.  To walk any of the more remote hills I would certainly recommend buying your maps before you leave.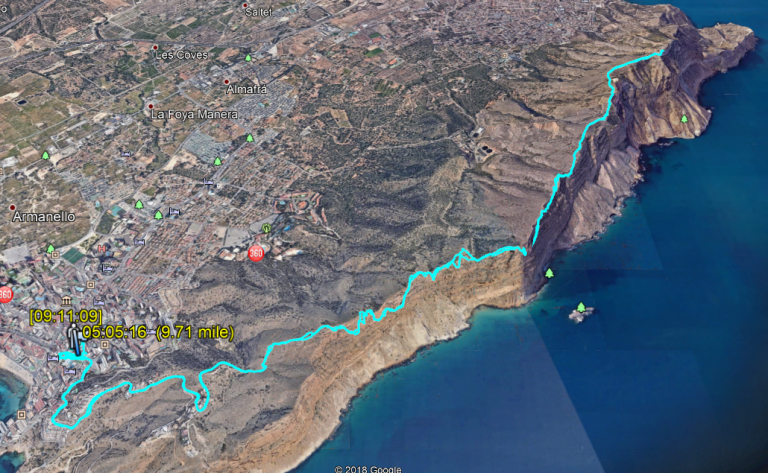 There is a leaflet available from the tourist information that describes the walk along Sierra Helada but it is not very good.  I studied it for ages the evening before but couldn't work out the route they were suggesting.
Finding the trail
The main road parallel to the beach in the Easern end of Benidorm is called Avenue Del Mediterraneo.  Find this and follow it to the Eastern end.  From there head up Calle de Berlin by now heading SE.  Turn right at the end of this onto Calle Sierra Dorada.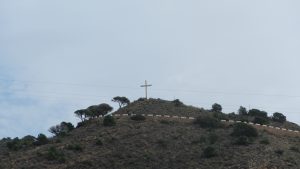 At the roundabout take the right fork onto Av. Tokio.  Follow this street up to the cross.  It is a popular walk up to the cross and can be driven almost to the top.  As you gain height the views over the city are worth enjoying.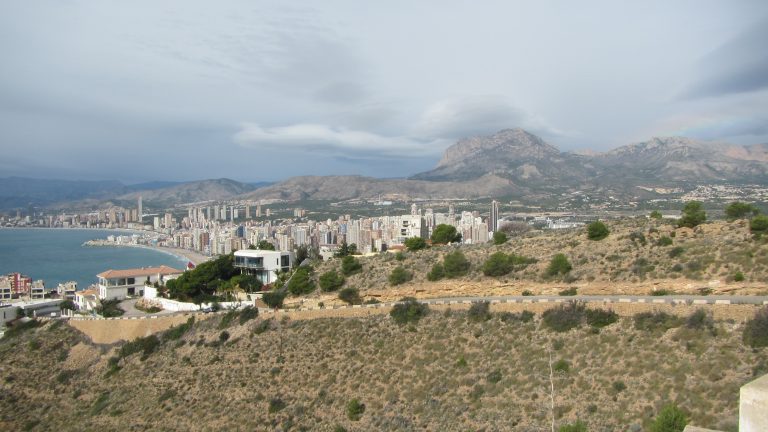 As you leave the tarmac behind at the cross, the left fork is the start of the trail.  The right path leads a short distance up to the cross itself and there is a path back down which rejoins our trail if you want to pop up to see it.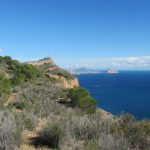 The trail from the Cross is fairly obvious most of the way, it is marked in various places with painted ticks, a few cairns and the odd signpost.  Once you reach the first summit just follow the cliff edge until you can see the radio towers.  It's a bit up and down as you would expect from a coastal cliff path.
Operating in Spain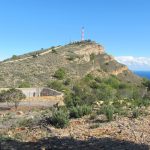 I only had vhf/uhf FM capability on my radio so I knew it was not going to be easy activating a summit.  I spent as much time as possible in the days before listening to the local repeater and on S20 the VHF calling channel.  In four days I never herd a single person on either.  There did seem to be some APRS activity locally but from the hotel I couldn't reach anything that would gate my packets to the internet.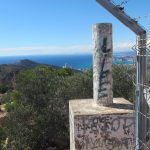 From the higher ground near the Cross and most of the way along the ridge I was able to get APRS packets through to EI5RCI-15 NW of Alicante.  After a good walk and a lot of up and down I eventually reached the summit where there is a large radio mast installation.  I set up only about ten metres from the perimeter fence but it didn't seem to cause me any interference  problems. I knew from previous discussions that I would be more likely to succeed if I new a little Spanish so I was prepared with a few key phrases thanks to Ignacio EA2BD.  I am sure my accent would have been a give away but I called CQ SOTA for about nearly an hour from the top without a single reply.
Key Phrases
CQ SOTA CQ SOTA Echo Alfa barra Mike Uno Charlie Julliet Eco , QRZ
Tu senial es cinco nueve, cambio
Mi referencia es SOTA EA5/AT cero tres ocho. OK!
Gracias por el contacto, siete tres
Eventually I gave up and packed the station away for the return trip.  The activation was unsuccessful but it didn't matter as the day out in the hills was more than worth it.
Overall I would definitely recommend this walk but for a successful activation I think you would need to plan on taking HF bands or a few friends with licences.
73, Andrew
Journey Details
Date – 31st October 2018
Radio – Kenwood TH-D74
Antenna – 2 Ele Yagi
Band – 144 FM
Contacts – 0
SOTA points – 0
Group – Myself
Walking Route Summary