GW/SW-003 – Via Fan Hir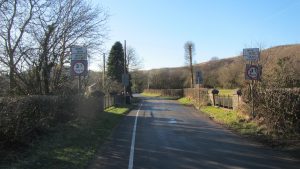 Sunday promised to be a better day weather wise.  The forecast was for a clear day but very windy.  We planned to start this time from the layby at Tawe Bridge which was a bit closer than the last time.
The route onto the access land via Ty Henry needs to be carefully navigated as the land owner at Ty Henry is known to object if you don't follow the proper permitted path.  See the tracklog below for the correct route.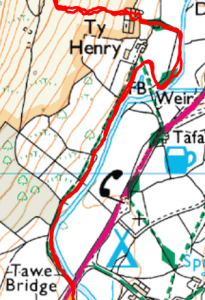 Once past Ty Henry pass to the right of the cattle pens and then the path up onto Fan Hir is very clear if rather steep.
At the top of the initial ascent pass by the small mound of Allt Fach and follow the fairly obvious path North West.  This path can get very boggy in the summer but today it was frozen solid, more pleasant to walk on but rather slippy in places.
On a clear day the views off to the North East are fabulous but with the wind in our faces it was a long hard trek up to the top.  You will be able to see Pen y Fan and Corn Du in the distance and Fan Nedd in the mid ground.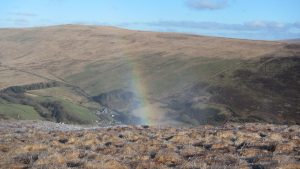 With the wind blowing strongly in from the North West we were treated to the sight of the snow blowing up the face of Fan Hir into the sunlight creating a rainbow over the edge.
The final ascent up onto the top of Fan Brycheiniog is a short steep section of path that was heavily iced over.  In this weather it is easier to avoid the path and climb the steep grassy bank alongside.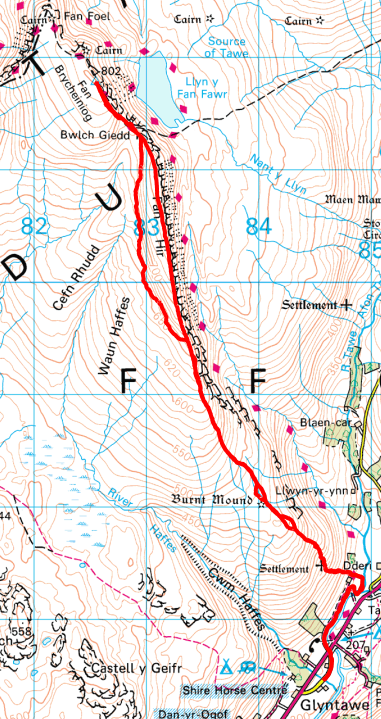 At the summit we were lucky to get the small summit shelter to ourselves so we set up the station there with the aerial poking out over the top, much to the amusement of passers by who thought we were watching TV in there. I quickly made fifteen contacts to activate the summit.
The return trip was uneventful although we did decide to bypass the main heights of Fan Hir to try and avoid the wind.  This turned out to be a mistake as with no clear path the ground was very hard going over boulder fields and long grass.  With hindsight we would have been better off sticking to the path on the top of the ridge.  We were certainly glad to reach the car just before dusk.
GW/SW-003 Log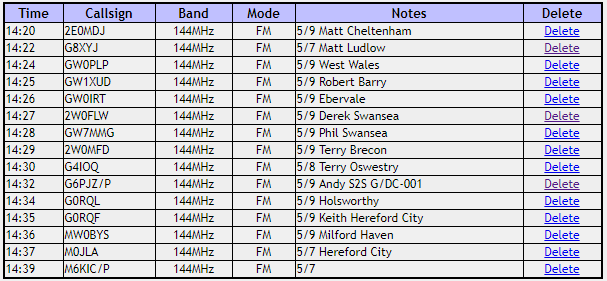 Journey Details
Date – 7th January 2018
Postcode – SA9 1GP
Parking – SN 845 164
Radio – Kenwood TH-D74 + 50W PA on 2m
Antenna – 2 ele dipole
Band – 144 FM
Contacts – 15
SOTA points – 8 (+3)
Group – Myself & Peter
Walking Route Summary