A new year and a new allocation of SOTA points so started the year with a couple of easy ones in the Brecon Beacons.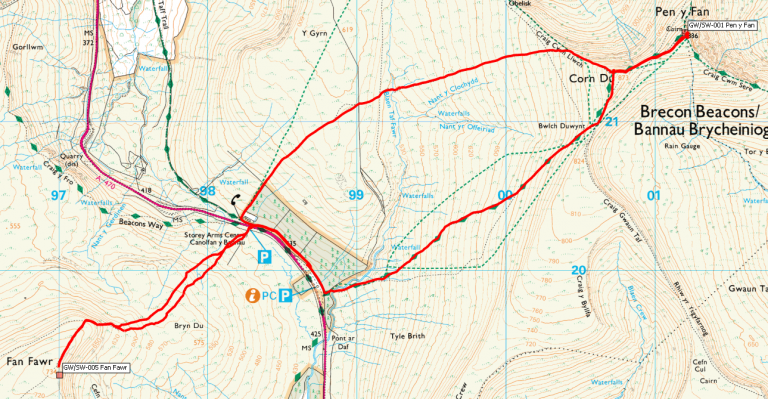 GW/SW-005, Fan Fawr – 734m, 6 Points
The forecast for New Year's day was looking good so we were hoping for a nice clear run up Fan Fawr, but as usual in the Brecons the cloud was sitting on the tops so it wasn't to be.  At least it was not raining and the wind was low.
The walk to the top was uneventful and even though the car parks were overflowing everyone was heading up Pen-Y-Fan.  We didn't see another walker until we were at the top and operating the station.
We soon made four contacts which we shared between the two of us and then I went on to work the rest of the pile up.  Once done it was an easy walk back down to the Storey Arms and the car for lunch.
GW/SW-005 Log
GW/SW-001, Pen y Fan – 886m, 8 Points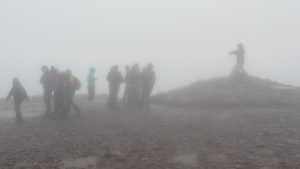 Pen-Y-Fan was a bit busier than Fan Fawr.  We started by queuing to get through the gate out of the car park!  The long trudge up the tourist path was mostly just dodging around the New Year day trippers, we were into cloud by about 600m so not even a view to enjoy.  The top was predictably busy but we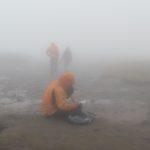 managed to find enough space to set up the station.  This time I worked the first four and then left Richard to work the pile up.
Once finished we packed up and returned to the car via the Storey Arms path for a change.  This path has been completely reworked and is now fully pathed all the way to the top of Corn Du which made for an easy decent.
GW/SW-001 Log

Journey Details
Date – 1st January 2019
Postcode – LD3 8NL
Parking – SN 986 200
Radio – Kenwood TH-D74
Antenna – Nagoya NA771 & 2 ele yagi
Band – 144 FM
Contacts – x+y
SOTA points – 14 + 6 bonus
Group – Myself & Richard
Walking Route Summary