GW/SW-019 – Mynydd Twyn-glas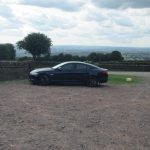 Another short drive got me to the parking for Mynydd Twyn-glas at ST 236 980.  There is plenty of room here for half a dozen cars and a good track directly to the summit.  The track heads off to the East ascending gently, past the radio towers and onto the trig point just beyond.  It is an uneventful walk along a very obvious track.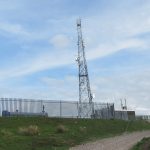 The radio towers are far enough away from the trig point to not cause any problems.  Arriving at the summit I soon set up the station and managed six contacts.
Whilst there if the weather is clear it is worth enjoying the superb views out across the Severn estuary.
The return to the car was about as eventful as the walk in, which was welcome after successfully activating three summits in an afternoon.
GW/SW-019 Log

Journey Details
Date – 30th August 2018
Postcode – NP11 5AY
Parking – ST 236 980
Radio – Kenwood TH-D74 + 50W PA
Antenna – 2 ele yagi
Band – 144 FM
Contacts – 6
SOTA points – 1
Group – Myself
Walking Route Summary