GW/NW-006, Tryfan – 918m, 8 Points
Day two of our Snowdonia excursion.  The plan was to climb Tryfan then on up Bristly Ridge onto the Glyders to bag Glyder Fawr and possibly on also to Y Garn before descending back down via the Devils Kitchen.  A classic Glyders circuit.  Unfortunately the weather was against us so we only managed to complete Tryfan, details below.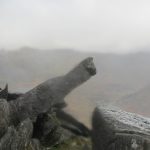 Still wet from the previous day we set off from the car park at Llyn Ogwen up the classic north face route.  It was pretty much as expected, another new variation although there were a few bits I recognised.  We found the Cannon Stone but it was too windy to climb aboard.  From the Cannon Stone we missed the main route up and ended up climbing the chimney under the chock stone which is always good fun.  We reached the top and felt the full fury of the wind.  At times the gusts were strong enough to knock me over so we went for a rapid activation from the whip antenna.  Fortunately we soon made the required four contacts and were able to get off the summit in a controlled manner rather than being blown off.  Needless to say we didn't try the leap of faith, I think if we had we would have landed some distance below on a gust of wind.  Maybe next time.
GW/NW-006 Log

Once off the summit we reviewed the situation and in light of the forecast for the winds to increase significantly over the next few hours we decided against attempting the grade one scramble up Bristly Ridge, instead we turned east to take the low route back up to the road and an early finish.
Journey Details
Date – 2nd December 2018
Postcode – LL24 0EU
Parking – SH 661 602
Radio – Kenwood TH-D74
Antenna – Nagoya NA771
Band – 144 FM
Contacts – 4
SOTA points – 8 + 3 bonus
Group – Myself & Peter
Walking Route Summary