GW/SW-002 – A novel approach
For my second SOTA summit I headed over to Waun Fach.  I have climbed to this summit a number of times in the past but always from the East.  For a change this time I decided to find a route up the westerly flanks.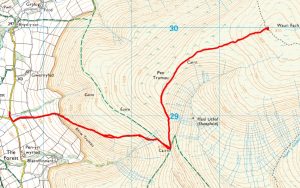 Parking was a bit tricky with no recognised parking area in the vicinity.  We managed to find a spot on a verge near our planned starting point.  At a squeeze there would be room for two cars but definitely no more.
The ascent was pleasant enough with good visibility.  There is a fairly clear path all the way to the top.  On reaching the top I was surprised to find that the big boulder that used to mark the summit has been removed.  There is now a made up path across the summit plateau which certainly makes passage somewhat easier than the old quagmire that used to be there.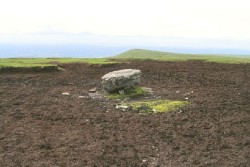 The bowl that the boulder sat in is still there if you look carefully but for how much longer I don't know.  There appears to be extensive work being done to counteract the erosion with planting mats laid around to try and stabilise the surface.  I am sure it will improve access but there was a certain sense of achievement missing now the summit point is so easy to find.
Unexpected visitors
A few minutes after we arrived at the summit we heard the distinct sound of a helicopter approaching.  Much to our surprise the helicopter touched down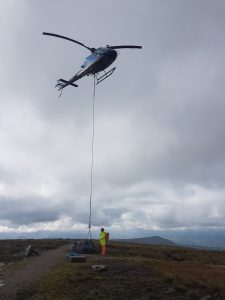 about ten meters in front of us, right in the summit bowl, and dropped two people off before leaving again.  I asked them what it was about and they informed me that they were about to fly in a pile of supplies for further reconstruction work.
We set about establishing our operating position. After our previous success on Pen Y Fan this time I had brought along a small 2 element beam for 2m that I had built from an old set of fibreglass tent poles.  Whilst setting this up I heard activity on the radio and realised it was still monitoring GB3TD, our local 70cm repeater back in Wiltshire.   The signal from Wiltshire was extremely good and I was able to have a chat with some of the locals from Swindon radio club.
Once everything was connected I called 'CQ SOTA' on the 2m FM calling channel and immediately ended up on the sharp end of a small pileup.  Having relocated to S21 I managed to work thirteen QSO's in the space of about thirty mins, regularly interrupted by the helicopter flying in and dropping off large bags of stone.
Power to the people
In addition to the small beam, I had packed a small linear amplifier for 2m.  In tests made before we left I was measuring about 50w output when driven from my Kenwood TH-D74.  Power for the amplifier was provided by a set of four cell LiPo packs (4S4P) with a small buck converter dropping the voltage to 13.8V.  Adding the amplifier and batteries of course increased the weight we were carrying but it was still within acceptable limits.  In thirty minutes of operating I used about 2.5Ah from the total capacity of 10.4Ah available so it looks like this is certainly a viable option for those more distant summits.
Journey Details
Date – 17th September 2017
Postcode – LD3 0EU
Parking – SO 186 290
Radio – Kenwood TH-D74 + 50W PA on 2m
Antenna – 2 ele dipole
Band – 144 FM
Contacts – 13
SOTA points – 8
Group – Myself and Peter
GW/SW-002 Log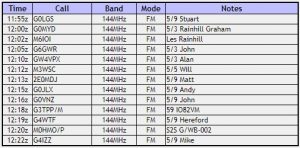 Walking Route Summary