GW/SW-004 – Wellington boots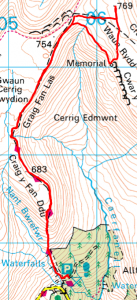 There are a number of approaches possible to this summit, for this activation we chose the southern approach.  There is good parking available in the Blaen y Glyn Uchaf car park at SO 056 176.  This is a popular walking area and on a nice day the car park will fill up by late morning.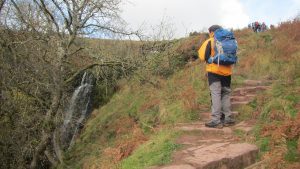 There is an obvious path which leaves the car park at the western end and is immediately into a steep climb, it pays to do a little warm up before you start!  The path up to the Craig y Fan Ddu ridge is well maintained with steps in the steeper sections. Once you reach the top simply follow the edge north along Graig Fan Las until reaching the junction at SO 057 205. There is no obvious path to the actual summit, if you follow the easterly path for about 300m you will be in the activation zone.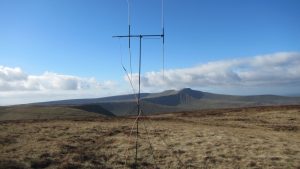 If you want to find the summit proper then you need to continue on an easterly bearing from the junction, leaving the made up path once it starts to bear southward.  Continue on the easterly bearing for another 250m until you reach the ridge line where you will find a small track leading to the north.  Follow this north for about another 150m until you see the small summit cairn. From the summit on a clear day you will enjoy a wonderful view to the west overlooking Fan y Big, Cribyn, Pen y Fan and Corn Du.
An interesting diversion
To the south of the summit lies the remains of a WW2 Wellington Bomber that crashed here during the war.  There are many aircraft crash sites in the Brecon Beacons but this one is unusual in that there is quite a large amount of debris remaining on the mountain side.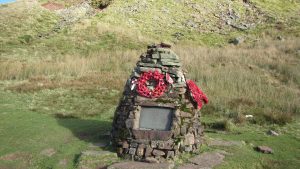 There is also a memorial that has been placed there to mark the spot.  There are a number of sites on the internet which describe the circumstances of the crash easily found with a quick search for those interested to know more.
To find the crash site from the summit, follow the track back to the south until you meet the made up path and then continue south for approx another 400m, there is no obvious path from this direction.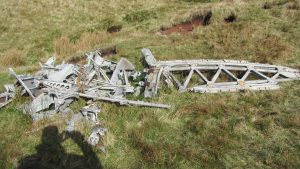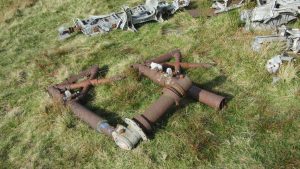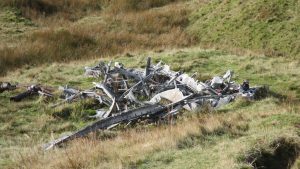 The return route from the crash site is easily found as it is well frequented.  Head north west back up to the junction and then return via the same route used on the way up.
Journey Details
Date – 29th October 2017
Postcode – CF48 2UT
Parking – SO 056 175
Radio – Kenwood TH-D74 + 50W PA on 2m
Antenna – 2 ele dipole
Band – 144 FM
Contacts – 19+2
SOTA points – 6
Group – Myself and Peter
GW/SW-004 Log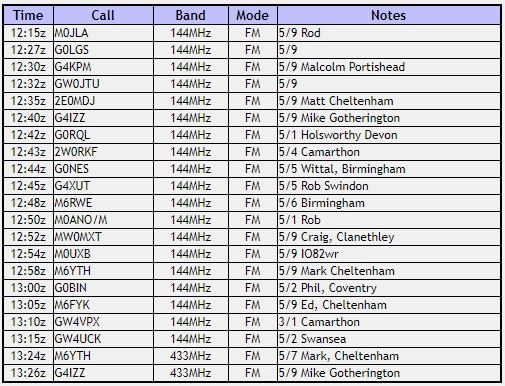 Walking Route Summary