GW/SW-003 – A new approach
Fan Brycheiniog was the last of the 8 point SOTA summits in the Brecons I had still to do in 2017 so on a bright sunny October morning we set sail for a north westerly approach past Llyn Y Fan Fach.  Compared to last week on Fan Fawr it couldn't have been more different.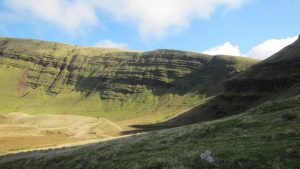 Arriving at the car park, it was fairly full but there were still a few places to be had.   After some initial confusion establishing exactly where we were on the map we set off south along the obvious track towards the lake.  At the filter beds, rather than following the westerly route up around the lake we chose to strike off cross country to find the more challenging route up through the Pant y Bwlch pass.  This should only be tried if you are confident on steep ground and the weather is appropriate.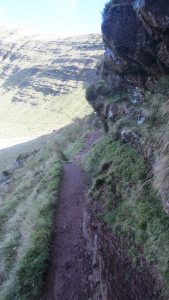 From the top of Pant y Bwlch there is a clear path following the edge of the summit plateau, around Fan Foel, past the summit cairn and onward to the trig point marking the highest spot on Fan Brycheiniog at 802m asl.
The view from the trig point on a clear day is incredible.  We set up the station next to the trig point on the edge looking out over Llyn y Fan Fawr with a clear takeoff to the north east. A quick call on the FM calling channel was rewarded immediately with a number of stations coming back.  We moved of to S18 where I worked through the mini pileup.  In the next hour I worked 17 stations from locations as diverse as Southern Ireland, Manchester and Stockport including two S2S contacts, one into the Lake District and the other in the West Midlands.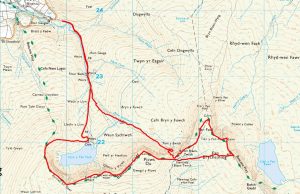 For the return route we decided to track cross country straight across the plateau heading for Picws Du.  There is a faint path most of the way which is fine in good visibility.  Back at the pass we elected to take in the summit of Picws Du as a bonus so headed up and over the top.  Again to be rewarded with glorious views over the lake and beyond.  The path back down this way is fairly clear and close to the steep drop back down to the lake.
Journey Details
Date – 8th October 2017
Postcode – SA19 9UN
Parking – SN 799 238
Radio – Kenwood TH-D74 + 50W PA on 2m
Antenna – 2 ele dipole
Band – 144 FM
Contacts – 17
SOTA points – 8
Group – Myself & Peter
GW/SW-003 Log

Walking Route Summary